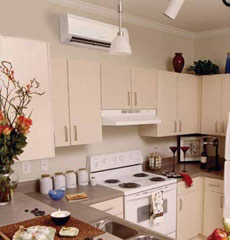 Heating your home with electric heat is one of the most costly heating system on the market. High monthly utility bills can now be a thing of the past. Ductless Heat Pumps are the most efficient heating  and air conditioning system on the market. Quite, comfortable, and can help cut your homes heating bill up to 60%. With utility incentives and tax credits that can help pay for your homes upgrades, a Ductless Heating & Air Conditioning system is the perfect solution for you and your home A ductless heating and cooling systems consists of a outdoor unit, with one or more indoor air handling units typically mounted high on a wall or ceiling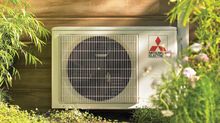 with individual remotes that control your system. Ductless units have the advantage of being zone systems which enable you to heat and cool the areas you want, which reduces your utility bills, savings up to 60%. Perfect for replacing zonal electric heat, new construction, adding a room, or those hard to heat or cool areas such as an upstairs. Ductless Heat Pumps have a variable speed compressor, providing more efficient operation to match the heating and cooling needs of your house, ultra quiet fan which allows to have more even temperatures throughout your home.
Quick Installation
Duct Free units
Efficient operation down to 0 degrees without auxillary heat
Save up to 60% off your heating bill
Zone system heat and cool only the rooms you want
Environmentally friendly 410 a refrigerant
Heating and Air Conditioning
Even temperatures throught your home
Variable speed compressor
Advanced Mechanical along with Northwest Ductless can help with utility rebates, cash incentives and tax credits.
 Participating Utilities
| | |
| --- | --- |
| City of Ashland City of Bandon Blachly Lane Electric Coop Canby Utility Board City of Cascade Locks Central Electric Coop Central Lincoln PUD Clatskanie PUD Columbia River PUD Columbia Rural Electric Assn Consumers Power Coos Curry Electric Coop Emerald PUD | Energy Trust of Orego EWEB Forest Grove Light & Power Lane Electric Coop McMinnville Water & Light Midstate Electric Coop City of Milton-Freewater Light & Power City of Monmouth Oregon Trail Electric Coop Salem Electric PGE Tillamook PUD |
McMinnville, Or | Portland, Or | Salem, Or | Keizer, Or | Oregon City, Or | Lake Oswego, Or | Hillsboro, Or | Beaverton, Or | Tualatin, Or | Sherwood, Or | Tigard, Or | Forest Grove, Or |Sheridan, Or | Carlton, Or | Willamina, Or | Clackamas, Or | Lake Oswego, Or | Clackamas, Or